Our resources
Human Resources at Spiecapag: 90 years of strong and responsible commitment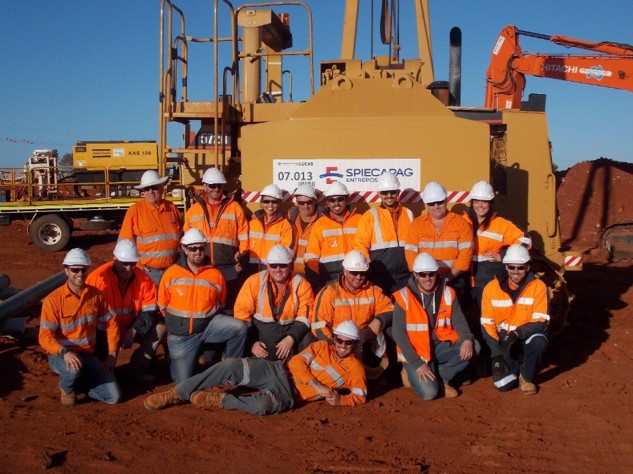 Spiecapag's co-workers have built up an international reputation for the company. Team spirit has been consolidated during projects all over the world, with solid social and cultural experience, quality work and integration in the most hostile environments.
The Human Resources policy and structures reflect the action of a responsible employer, aim to create sustainable jobs, organise the sharing of the benefits of growth, encourage quality dialogue between management and employees, protect the health and safety of every co-worker, prevent discrimination and anticipate skills development requirements.
Spiecapag's performance and growth are essentially underpinned by qualified staff having the technical, managerial and commercial skills and the experience necessary for successful completion of its most complex projects. Moreover, the particularly competitive environment as regards human resources in our sector of activity has led us to strengthen our ambitious human resources management policy focused on skills development and maintaining high levels of motivation in order to attract and develop talented employees, and make them more loyal.
Furthermore, the collaborative environment at Spiecapag enabled, with the agreement of all stakeholders, the signing in April 2015 of a new Collective Agreement on gender equality in the workplace and the continued integration of all other Collective Agreements put in place over the last few years.
The annual appraisal interview, in which individual performance and professional development are discussed, is an essential Human Resources tool for formalising and encouraging the dialogue which should exist between line managers and co-workers. This is why we continue with our target of carrying out interviews in 100% of cases where appropriate.
Finally, Spiecapag employees can take advantage of the PEE company savings plan, the PERCO pension plan (both of which receive employer contributions), and an additional pension plan for executives and related categories of staff set up by the VINCI group.
Technical resources
Spiecapag has all the specialised equipment for building pipelines and related infrastructure, which means it can rapidly mobilise to carry out well-managed operations all over the world. Strengthened by its global experience, Spiecapag has been able to develop specific equipment in collaboration with renowned equipment manufacturers. Some of them have even won the IPLOCA technological innovation awards. Spiecapag is keen to offer innovative technical options which meet the particular constraints of each project. In addition, our stock of equipment can quickly be strengthened if necessary, thanks to existing agreements with the main equipment manufacturers.
The fact we belong to the VINCI group consolidates the historic links with these suppliers.
Our stock of equipment is maintained and updated at our logistics base in Dunkirk, northern France. We develop it in terms of quantity and quality in accordance with the requirements and constraints particular to each project. We carry out modifications on the latest security or pollution systems in our workshops, in order to ensure the safest working conditions for our staff and the public. Our teams of engineers develop new tools and technical solutions on an ongoing basis. Thanks to our well-trained and competent staff we can meet the demands imposed by both regulations and the new technologies applicable to our equipment, taking account of safety, environmental protection and the durability of the equipment.
Specific software (ERP, CMMS etc.) has been deployed, both at the projects level and at the head office and Dunkirk, to manage the supply chain, and for the monitoring and optimisation of equipment maintenance. These integrated systems enable real time monitoring of all of the group's equipment and projects.
Our know-how in the area of logistics allows us to mobilise significant amounts of equipment and materials all over the world.
In particular, we have developed specific container modules in order to optimise transport costs. Our dedicated equipment project teams ensure correct maintenance in accordance with manufacturers' ever more stringent requirements, so that we can offer our teams the safest working environment and optimal availability of the equipment.
Projects have access to the latest communications facilities, and they are continuously improved and adapted in line with technological developments, enabling the responsiveness demanded by our projects.
Finally, our experts participate actively in the group's various R&D projects, thus conserving the spirit of innovation which is essential to the implementation of our projects.